Windows 10 Recent Bug Fixes Are Important!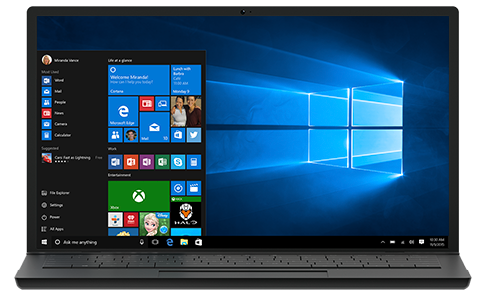 If you haven't updated your Windows 10 installation lately, now is the time!
Windows 10: These two new builds deliver lots of bug fixes
ZDNet – By Liam Tung – "If you're running either of the two latest versions of Windows 10, then Microsoft has a bunch of bug fixes to improve the OS for enterprise environments.
Microsoft has released Windows 10 build 17134.191 for Windows 10 versions 1803 or the April 2018 Update, as well as Build 16299.579 for Windows 10 users on version 1709 or the Fall Creators Update.
The update for 1803, tagged as KB4340917, doesn't introduce new features but does fix a lot of issues that could be causing headaches for admins managing mobile devices.
The update includes a fix for devices within Active Directory or Hybrid AADJ++ domains that 'unexpectedly unenroll from Microsoft Intune or third-party Mobile Device Management (MDM) services after installing provisioning package updates (PPKG)'.
And for developers, it also fixes an issue affecting the Universal CRT Ctype family Windows 10 SDK and Tools. Microsoft has been working on a fix for the problem since May.
It's also fixed a problem with registration in the 'Push to Install' service.
Before this update, Version 1803 caused logon or logoff delays when using roaming user profiles. This update 'addresses an issue with Roaming User Profiles where the AppData\Local and AppData\Locallow folders are incorrectly synchronized at user logon and logoff'.
There's also a fix in there for peripheral devices that use Quality of Service parameters for Bluetooth connections.
The April 2018 Update was also bloating SQL Server memory when encrypting data using a symmetric key that has a certificate.
Some users who work at organizations with low lockout thresholds may have been confused by a premature lockout if they accidentally used an invalid password. This occurred in organizations that use a wireless Protected Extensible Authentication Protocol (PEAP) environment that has Single Sign On (SSO) enabled. PEAP is a common authentication method for Microsoft shops using wireless networks, often in wireless LAN environments.
Microsoft's historical answer to Apple's TrueType, OpenType fonts, should now be able to print in Win32 applications.
There was also a memory leak problem caused by DNS Response Rate Limiting when LogOnly mode was enabled. Meanwhile uses should no longer see a black screen when maximizing an app window on a second monitor when the user was in a RemoteApp session.
Finally, Microsoft has fixed a problem with its Input Method Editor (IME) tool for writing in Chinese and Japanese characters.
The update 'addresses an issue in IME that causes unexpected finalization of strings during Japanese input in applications such as Microsoft Outlook'.
There's one known issue that Microsoft is working on a fix for in a future release that surfaced after the July 2018 .NET Framework Security Updates were installed.
'Applications that rely on .NET Framework to initialize a COM component and that run with restricted permissions may fail to start or run correctly after you install the July 2018 Security and Quality Rollup updates for .NET Framework,' Microsoft said in a support note.
'The .NET Framework runtime uses the process token to determine whether the process is being run within an elevated context. These system calls can fail if the required process inspection permissions are not present. This causes an 'access denied' error.'
The update KB4338817 pushes Windows 1709 to build 16299.579 and fixes the same MDM-related problem in the new version of Windows 10.
Download now: 20 pro tips to make Windows 10 work the way you want (free PDF)
There are fixes for Microsoft Edge DevTools, including one that made it unresponsive when the console was flooded with messages.
It also fixes a problem that caused a Windows PC to display a black screen for several minutes after installing Windows updates before going to the desktop.
The same PEAP with SSO issue and DMS Response Rate Limiting memory leak were also addressed in this update. And there are a bunch of fixes for PDF files in Edge, Microsoft Foundation Class applications, Group Policy Object (GPO) fixes, Web Account Manager authentication problems, SSO failures for Remote Desktop logins, and the same SQL Server memory bloat problem.
Until now some users may have noted that Microsoft's BITS client-server file transfer service didn't work when it couldn't connect to the internet.
And Microsoft has finally fixed a printing problem on 64-bit Windows that Microsoft introduced in an update in August 2017. This happened when 32-bit applications impersonated other users often by calling LogonUser.
There are also fixes for RDP, network printing fixes, a resolution for an upgrade glitch that began on devices that had installed monthly updates since April 2018.
There are three known issues in this update, including one affecting devices with Microsoft's Device Guard security feature enabled. This causes some non-English platforms to display various error messages in English rather than the local language. There are also non-English language bugs affecting error messages when attempting to read jobs created and Device Guard is enabled."