The Linux-Based ZeroPhone!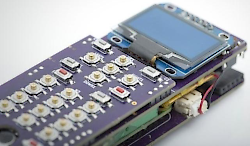 A Raspberry Pi based Linux Phone? For $50.00? Cool!
Raspberry Pi-based ZeroPhone promises 'an open-source, Linux-powered' handset
ZDNet – By: Nick Heath – "If you're looking for a smartphone that doesn't harvest data 24/7, then the ZeroPhone may be the device for you.
A project to build the $50 phone has been launched on Crowd Supply, promising to deliver 'an open-source, Linux-powered' handset with 'no carrier locks, bloated apps, or data mining' and that 'doesn't depend on big companies'.
Android smartphones have hit the headlines recently, first for Google tracking users who had switched location tracking off, and second for sending data to Google's servers 50 times more often than an iPhone.
The ZeroPhone will be based around the tiny Raspberry Pi Zero, an Arduino microcontroller, and the ESP8266 Wi-Fi module.
The ZeroPhone comes with several extras not found on your typical handset, including a mini-HDMI port and a single full-size USB 2.0 port, alongside the more typical support for Wi-Fi and a 3.5mm headphone jack.
One downside is the phone will initially launch only with 2G GSM connectivity, with 3G expected to be added later. The screen is also far smaller than is typically the case, with a 1.3-inch, 128 x 64 OLED display.
'ZeroPhone is user-friendly and will have the typical features of a phone, but will give you advanced features when you need them,' according to the ZeroPhone's creator Arsenijs.
'You can modify and repair it easily, and it's power-user and programmer-friendly. It's also built from widely available components, so you can build a ZeroPhone independently if you need to.'
To get the most of the phone, users will need to be technically proficient. While the splash page for the project says the likes of IR receivers and the Pi's 5 and eight-megapixel cameras can be wired up the phone's electronic interfaces, this will require users to hook up the electronics themselves.
However, if you're confident using the Linux terminal, you'll be able to SSH into the device for remote access and run a wide range of Linux software on the phone.
It can even be hooked up to a keyboard and mouse and used as a desktop, although the Pi Zero's ageing single-core processor isn't capable of running a heavy graphical desktop comfortably.
The ZeroPhone project is listed as 'coming soon' and those interested can sign up for updates on Crowd Supply."