Access Your File Share From Your Chromebook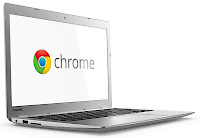 This is pretty cool! This is a feature I have wanted for a LONG time!
Windows file sharing comes to Chromebooks
ZDNet – By: Steven J. Vaughan-Nichols – "You can run Android apps on Chromebooks. You can run Linux programs on Chromebooks. Heck, you can even run Windows programs on Chromebooks. But one thing you couldn't do natively on a Chromebook is read and write files on a Windows PCs or Windows and Samba servers. Things change. With the forthcoming release of Chrome OS 70, you can access network file shares from Chromebooks.
To do this, once Chrome OS 70 is available to all users, open Settings, look for 'Network File Shares', click the 'Add File Share' button, and enter your user name and password. Then, click 'Add' button and open the Files app to browse your newly mounted shared folder. That's all there is to it.
Today, canary Chrome OS users can test it out. This version may not be the shipping one. Chrome OS developer Zentaro Kavanagh said on Google+, 'We are still working on improving the UX flow.'
Kavanagh also wrote, 'devices that only support the old SMB1 version of the protocol are not supported.' SMB (Server Message Block) 1 is insecure.
Microsoft deprecated the SMBv1 protocol in 2014. Starting with Windows 10 Fall Creators Update and Windows Server, version 1709 and later versions, SMBv1 was no longer installed by default. Nevertheless, many Network Attached Storage (NAS) file servers still support SMBv1. Whether or not you use Chromebooks, set your servers to use SMBv2 or newer.
The Chromebook's code is based on the Samba file server. Samba is a set of Windows interoperability programs that provide secure, stable and fast file and print services for all client operating systems using the SMB/Common Internet File System (SMB/CIFS) protocol. Samba is also commonly used on almost every NAS device.
Chromebooks already work with Active Directory (AD). Intel-based Chromebooks have done so since the Chrome OS 61 release. But they couldn't work with AD file resources.
It does not appear, at this time, that Google will be using Samba to enable Chromebooks to work with SMB/CIFS-compliant printers. However, while it's not well known, Chromebooks can now use some newer local printers. This is done with the open source Internet Printing Protocol (IPP)/CUPS. To see if your Chromebook can already work with your legacy printers, follow the instructions in Google's latest set up printers guide.
While there is an extension that enables Chromebooks to use SMB file shares, it's — not to put too fine a point on it — bad. By fully supporting SMB/CIFS, Chromebooks will be one big step closer to being full-fledged members of Windows-based offices."