Microsoft Screws Up Again! Windows Pro Activation Glitch!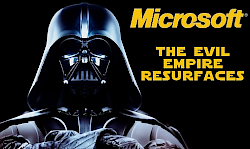 I saw this yesterday. My legitimate copy of Windows 10 said it wasn't activated. I did do the "Troubleshooting" fix by shear guess and it fixed it. However, you gotta do better Microsoft!
Microsoft Quickly Fixes Windows 10 Activation Issue
Thurrott – By: Paul Thurrott – "Yesterday, many Windows 10 Pro users started seeing erroneous activation issues. But Microsoft quickly fixed the issue.
'We're working to restore product activations for the limited number of affected Windows 10 Pro customers,' a Microsoft statement obtained by Mary Jo Foley notes. That statement arrived in mid-afternoon on Thursday. And Microsoft fixed the problem by the end of the day.
As you might imagine, given the way things have been going with Windows lately, there was an instant rip of outrage and criticism of the software giant for this latest gaffe. But without knowing what caused the problem yet, we can at least take solace in the fact that Microsoft did fix it very quickly. And it's not like anyone lost data or functionality during the downtime, which lasted less than a day.
For those curious about the error, it impacted Windows 10 Pro only. Users were incorrectly informed by the OS that their legal copy of Windows 10 Pro was unauthorized or unactivated.
If you did experience this problem, it's fixed: You can open Settings (WINKEY + I) and navigate to Update & Security > Activation, and then select "Troubleshoot" to run the Activation Troubleshooter to manually make everything right if it didn't happen automatically.
So, yes, I'm wondering what went wrong. But in the scope of other issues coming from the Windows team these days—like the fiasco that is the October 2018 Update—this was a relatively minor problem, now fixed."