Be Sure to Wish Fellow Geeks, "Happy Pi Day" on Sunday!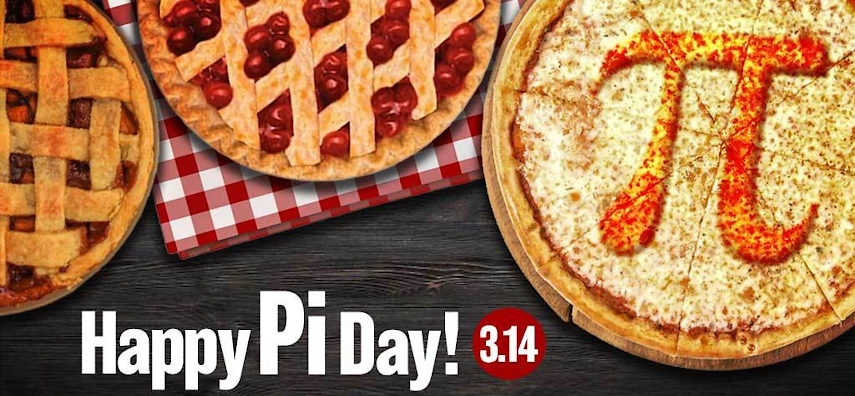 Yep, that venerable Geek holiday, "Pi Day" is tomorrow! March 14. 3.14, get it? Well, since May the fourth is "Star Wars Day" and is a Geek Holiday, then March fourteenth is as well! And, we geeks are becoming so mainstream, it seems that businesses are recognizing us!
7-Eleven: Participating stores will be offering up large pizzas — cheese, pepperoni and "extreme meat" varieties — for $3.14 each. You can get this in-store or via the 7-Eleven app. 7-Eleven will also donate one meal to Feeding America for every whole pizza purchased on Pi Day.
Blaze Pizza: As in Pi Days past, the chain is offering any regular-size pizza for $3.14. You'll need to download the Blaze Pizza app, create an account and access the deal in the Rewards section.
BJ's Restaurant & Brewhouse: From now through Sunday, you can get half off a large pizza for takeout or delivery with the promo code HALFOFF.
Hungry Howie's: Between March 13 and 16, you can get a $3.14 medium one-topping pizza with the purchase of Howie Bread.
Marco's Pizza: Buy any large pizza at menu price and get a second one (of equal or lesser value) for only $3.14. Use promo code code PIDAY.
Papa John's: Order one large pizza, get a second for $3.14.
Save A Lot: If you have one of these grocery stores nearby, stop in on March 14 for a Mantia frozen pizza for $3.14.
Your Pie: Get a 10-inch pizza for $3.14 off when you install the Your Pie Rewards app and redeem the Pi Day offer.
Boston Market: Buy one pot pie and a drink, get a second pot pie free. Also known as a BOGO, this deal requires you to use the Boston Market app. It's good only on Pi Day.
The Fresh Market: On March 14, you can save $3.14 on the store's 9-inch apple and cherry pies and chicken pot pies.
Jamba Juice: It's not a pizza or a pie, but from March 12-14, My Jamba Rewards members can get one small smoothie free with the purchase of a large one.