New Tablo Quad for HDMI Direct Connection to Your TV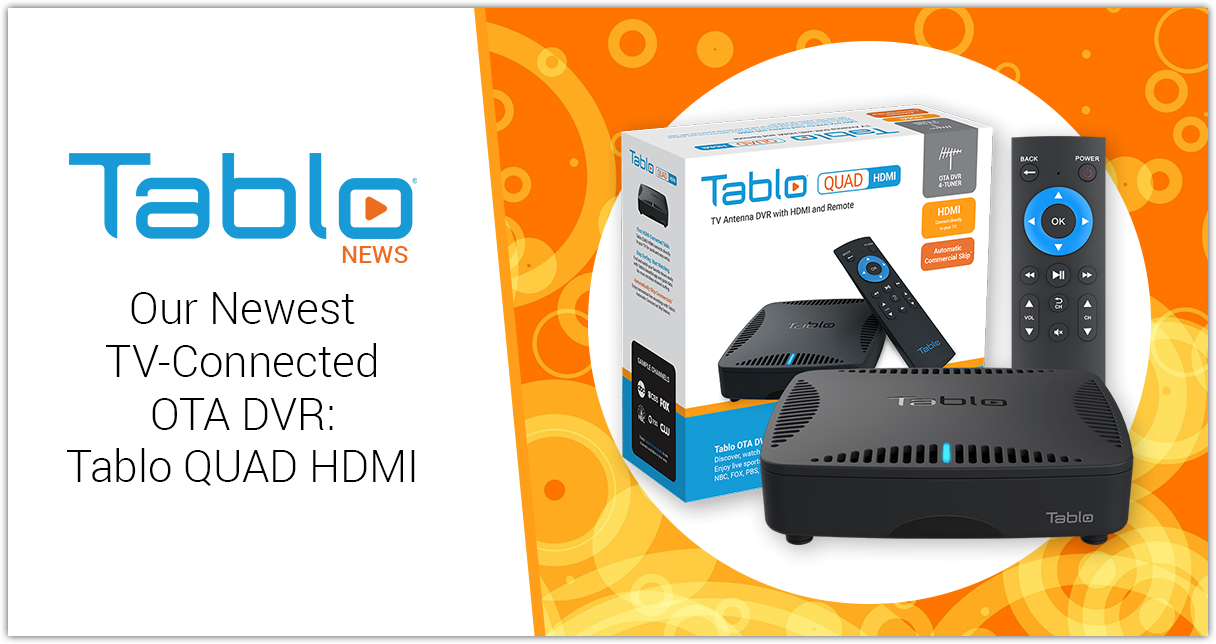 Tablo Blog – March 17, 2021 – "Introducing Our Newest TV-Connected OTA DVR, Tablo QUAD HDMI
Late last year, we launched our first TV-connected Over-the-Air DVR, Tablo DUAL HDMI.
And one of the first things folks asked was, "When will you be launching a Tablo OTA DVR with four tuners and an HDMI connection?"
That time is now!
Designed for cord cutters with larger families and/or Over-the-Air TV channel lineups, the Tablo QUAD HDMI shares the same form factor as its dual-tuner sibling.
But with four onboard ATSC 1.0 tuners, this OTA DVR gives you the flexibility to watch or record up to four programs at once.
With its own remote and a direct HDMI connection to your primary television, the Tablo QUAD HDMI is ideal for those who prefer a more traditional DVR setup.
Same Great Tablo Interface, New Form Factor
The new Tablo QUAD HDMI is the perfect way to supplement popular streaming services like Netflix and Amazon Prime that cord cutters already enjoy on their Smart TVs with free live and recorded local TV channels.
We've built powerful quad-tuner quad-core DVR hardware that connects directly to any modern television via HDMI and merged it with the intuitive DVR interface that existing Tablo OTA DVR owners know and love.
Just plug and play! The on-screen setup wizard will have you browsing all the great HDTV content from broadcast stations like ABC, CBS, FOX, NBC, and more in no time.
Using the QUAD HDMI DVR's dedicated remote, cord cutters can enjoy great Tablo DVR features including a traditional live TV grid guide, one-touch series recording, automatic commercial skip, and much more without the need for a separate streaming device or Smart TV.
What's Different About TV-Connected DVRs Like Tablo QUAD HDMI
As a TV-connected Tablo OTA DVR, there are some fundamental differences between Tablo QUAD HDMI and our network-connected OTA DVRs.
Raw MPEG2 Video
First, Tablo QUAD HDMI records and displays Over-the-Air TV in raw MPEG2 video format at the resolution and bitrate in which it is broadcast, including 1080i @30fps and 720p @60fps, where available.
This means you can squeeze about 130 hours of HDTV recordings on to a 1TB drive with our HDMI-connected devices, versus up to 700 with a network-connected Tablo, which transcodes the video into HLS format and optimizes the video for streaming and storage. With that in mind, you may wish to choose a larger hard drive to connect to your Tablo QUAD HDMI.
And unlike its network-connected cousin, the Tablo QUAD HDMI does NOT offer an onboard compartment for SATA drives.
Included Remote
Since the Tablo QUAD HDMI's interface is running on the DVR itself, it comes with its own dedicated IR (infrared) remote. This Tablo remote can automatically switch to the Tablo device's HDMI input and even control the power and volume on supported TVs via CEC.
Less Reliant on Internet for Basic Viewing
Tablo QUAD HDMI is an ideal OTA DVR for cord cutters who travel in RVs or live in rural areas where internet access is spotty.

While Tablo QUAD HDMI does require internet access for setup, this OTA DVR enables you to continue enjoying live and recorded programming on your primary television without internet access for up to two weeks.
In-Home Streaming to Secondary Televisions
Just because TV-connected Tablo OTA DVRs are tethered to your main television via HDMI, doesn't mean you're limited to watching content on a single TV.
With an active TV Guide Data Service subscription, Tablo QUAD HDMI OTA DVRs can stream live and recorded antenna TV on up to four secondary televisions in your home.
Once your DVR is set up, simply download free Tablo apps on streaming set-top-boxes and Smart TVs running the following operating systems and connect to your Tablo QUAD HDMI OTA DVR:
Roku
Amazon Fire TV
Android TV
For a list of supported devices and additional details, visit the TV-connected Tablo OTA DVRs page.
NOTE – Streaming content from Tablo QUAD HDMI to other devices within the home requires a VERY strong WiFi network.

If you experience buffering, you may need to connect your Tablo and/or your streaming device to your router via Ethernet.
Pricing & Availability
Tablo QUAD HDMI OTA DVRs are available now exclusively at TabloTV.com at an MSRP of $199.99 USD or $259.99 CAD.
Software Updates and Support
All generations of Tablo OTA DVRs receive free regular firmware and app updates, as well as basic DVR functionality, including:
24 hours of TV Guide Data (traditional grid guide)
Manual recording (one-time or recurring)
Playback controls including pause, rewind, and fast-forward
Support for 5.1 Surround Sound passthrough
Optional Tablo TV Guide Data Service
All Tablo OTA DVRs include a 30-day free trial of the Tablo TV Guide Data Service, which gives cord cutters total control over DVR scheduling and viewing. Along with episode and series synopses, cover art, and metadata for programs airing over the next two weeks, a Tablo TV Guide Data Service subscription provides powerful, and yet easy-to-use advanced DVR features like:
One-touch series recording (ALL or ALL NEW)
Advanced recording options (adjustable start/stop times, keep X recordings, record by channel)
Automatic extended time on live TV show recordings
Automatic avoidance of duplicate recordings
In-home streaming to secondary televisions
And much more
Optional Tablo Automatic Commercial Skip Service
All Tablo OTA DVRs include a 30-day free trial of the optional Tablo Premium Service subscription which enables the Automatic Commercial Skip feature. Automatic Commercial Skip makes it even easier to enjoy most recordings from Tablo OTA DVRs without any commercial interruptions by eliminating the need to manually fast-forward over ads.
Unlike other offerings which rely on intensive computing power or humans to identify commercial breaks, Tablo uses a cloud-based hybrid of digital signal processing (DSP) algorithms and machine learning to deliver more accurate results."