New Amazon FireTV Remote with Service Buttons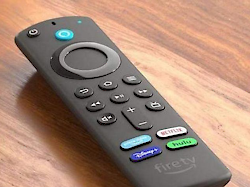 My second FireTV died, like the first one, so I won't be getting one. But, it looks like they are copying Roku's use of providing "services" their own buttons, for a "kick-back," I'm sure!
Amazon Releases New Fire TV Remote with Branded Buttons
Cord Cutters News – By: Jess Barnes – "Amazon just redesigned its Fire TV remote and the new model comes with branded buttons to take users directly to their streaming services. The new remote includes buttons for Amazon Prime Video, Netflix, Disney+, and Hulu.
Other than the dedicated streaming service buttons, the other major change is a blue Alexa button at the top of the remote. This button replaces the back microphone button for using voice commands. Another slight difference is the Fire TV logo at the bottom of the remote.
The remote was unveiled Wednesday and will start shipping on Wednesday, April 14. You can preorder the remote now on Amazon for $29.99.
The new model will be compatible with the following devices:
Fire TV Stick Lite
Fire TV Stick (2nd Gen and later)
Fire TV Stick 4K
Fire TV Cube (1st Gen and later)
Fire TV (3rd Gen, Pendant Design)
It will not be compatible with 1st and 2nd gen Fire TV, 1st gen Fire TV Stick, or Fire TV Edition smart TVs."